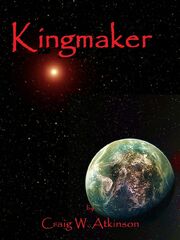 Kingmaker is the follow up to the first Seraphic Chronicles book
Rhapsody
by Craig W. Atkinson and continues the adventures of
Ejjina Mexonber-Quad
. It is the second part of the
Ejjina Mexonber-Quad Trilogy
.
The book was published in 2013.
It is split into three parts, The Trainee, The Cadet and The Knight, each telling a specific part of Ejjina's journey to becoming a Star Command Fleet Officer.
It tells picks up the story fo Ejjina Mexonber-Quad following on from Rhapsody, how she enters Star Command Basic Training, overcoming Quad prejudice as she does so, joins Star Command, starts a relationship with Hamish McDougal, maintains her grades and becomes a Squad Leader and is named the ceremonial cadet member of the Kingsguard, the bodyguards of the King and Queen of Baraben Prime.
She the Cameron Syndicate and vengeful Marjorie Gruber plot to kill her and the royal family as part of their nefarious schemes Ejjina finds the strength within herself to overcome the obstacles and prejudice in front of her, from attacks by the media, to the betrayal of Hamish, to assaults by Cameron Syndicate agents while maintaining her grades and graduating as an officer and a hero.
The book ends with Ejjina leaving to join the crew of the ScSS Yakiss.
The follow up, Oblivion was published in 2014.
It is available to buy here.