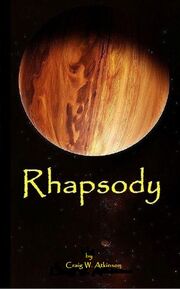 Rhapsody is a science fiction novel published in 2012. It is the first in a series of novels set in the Seraphic Chronicles universe and introduces several characters, worlds and the history of the universe.
It makes up the first part of the Ejjina Mexonber-Quad Trilogy.
Ejjina Mexonber starts as a young girl on Baraben Prime who is confused about her place in life, her schoolwork and boys. When she meets Philemon Yecroocs-Quad'Chi and things begin to change. After the murder of her parents by a drugs cartel she is whisked away on a galaxy spanning quest to become a member fo the mysterious and contraversial Quad Order, fulfilling three tasks in order to prove she has what it takes to become one of the Quad.
The story follows her on her quest, as she learns from Yecroocs-Quad'Chi, accompanied by her friend Bhutan Jii, trying to discover what it means to be one of the Quad, what it means to fall in love and what it means to become an adult.
The book is followed by Kingmaker.
The book is available on Kindle and in paperback. http://www.amazon.co.uk/Rhapsody-Craig-W-Atkinson/dp/1478267127/ref=pd_rhf_gw_p_t_1